Adobe Audience Manager is a world leading Data Management Platform (DMP). Audience Manager is fully agnostic and compatible with hundreds of platforms including both Adobe and 3rd-party products.
Audience Manager Integrations
Audience Manager integrates seamlessly with multiple Adobe platforms, including from the Adobe Marketing cloud, Advertising and Analytics clouds. Such programs include Adobe Social, Campaign, Analytics, Mobile Services, Campaign, Target, Experience Manager (CQ 5), Primetime and Media Optimizer.
Audience Manager also pulls in other first party data such as CRM and offline data, as well as 2nd party data from promotional partners. Third party data purchased from one of many data providers via the Audience Marketplace tool allows for a complete view of the customer, matched using non-personally identifiable data into a single user ID.  A full list of third party data providers on the Audience Manager's Marketplace tool can be found via Adobe's Audience Finder.
Examples of data-in and data-out integrations are shown below: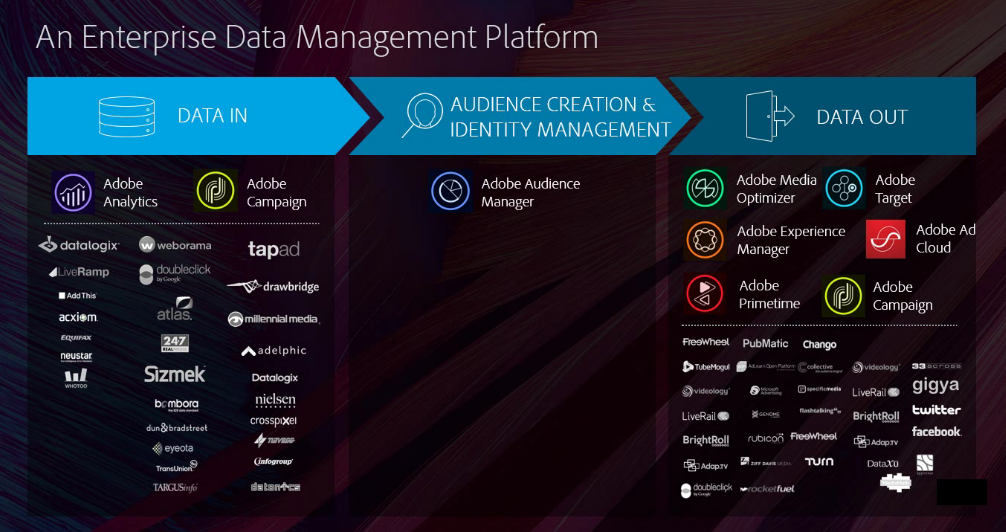 Benefits of Using Audience Manager
Audience Manager combines data from multiple sources to form a 360 degree view of the customer. This allows for vastly improved targeting of customers across your advertising and website assets.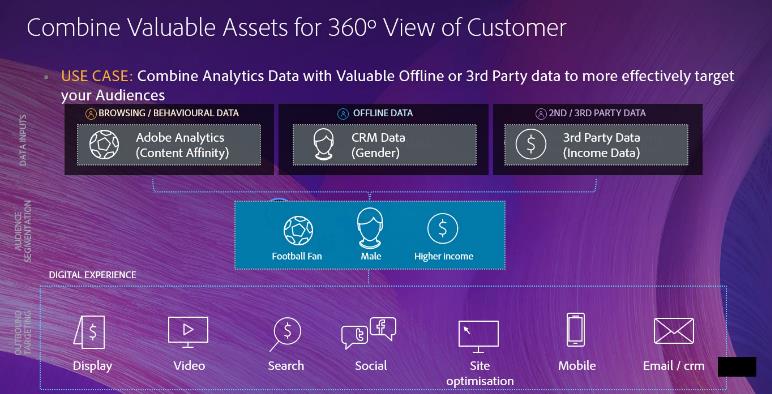 How can a DMP such as Audience Manager be used to my Advantage?
An example of how a business can use Audience Manager might be for a data consultant to:
Utilise web analytics data to narrow potential customers down based on their web behaviour, such as users who viewed a page on football gear.
Identify the user or set of users (a segment) by gender, for example – all users who are male via the website's CRM.
Understand and segment these users by income bracket – for instance selecting those with a higher income.
This segment of users (male football fans with higher incomes) can then be isolated in Audience Manager and tested against other segments for advertising and website personalisation. Testing hundreds or even thousands of such segments can yield huge differences in ad revenue or customer acquisition rates.
More targeted and intelligent segmentation allows publishers to charge a higher CPM and for advertisers to purchase more targeted ad inventory, ensuring that Cost Per Acquisition is greatly reduced and less wastage in each advertising dollar. Benefits are apparent for both advertisers utilising DSP's (Demand-Side Platforms) or for publishers with SSP's (Supply-Side Platforms) when combining their data within a data-management platform.
For more information on how Goji can assist with your Adobe Audience Manager needs, including Adobe partnering and consulting services, contact us using our easy online form.
Goji are based in Martin Place, Sydney, Australia.