View more information about how Goji Web provides SEO services to companies in Sydney, NSW.
Search Engine Optimisation, or SEO is the process of attracting organic web users from major search engines such as Google, Yahoo and Bing. By "organic", we are referring to users that click through to websites via the non-paid listings in Search Engines Results Pages.
The primary goal in SEO is ensuring smooth communication with the search engines to ensure your website is visible and represented correctly in search listings. The secondary goal is to generate higher volumes of web traffic, thereby increasing leads or "conversions", another word for achieving an online goal – such as a sale or newsletter sign-up.
A conversion is the completion of an online goal, such as online sales, newsletter sign ups or lead capturing.
The process of SEO includes fine tuning built-in components to make clearer to search engines what the website is about and how it is structured.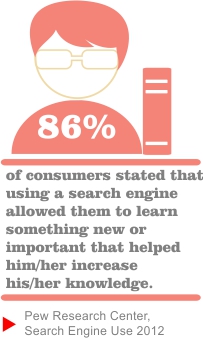 SEO isn't only about making search engines happy, it's also about presenting better search results to web users. Since the internet community crossed the threshold of a billion users, SEO has increasingly been shown as a great way to reach out to people en masse. Leaving behind more traditional forms of marketing, basic SEO helps businesses to be found easily, quickly and dynamically by employing relatively few technical steps.
And it shows, with 86% of consumers stating that using a Search Engine allowed them to learn something new or increase their knowledge of the world.
How does it work?
Millions of people are using the internet worldwide and performing queries to surf  the web, needless to say that search engines and their algorithm engineers have their work cut out for them. Let's dive into the detail to understand the mechanics of a search engine.
Crawling:
Giant Search Engines, such as Google and Bing, send out robots (also known as "spiders" or "crawlers") that crawl through the never-ending virtual expanse of information across the internet.
Indexing:
Search Engine crawlers continually gather and process the data, storing it in giant databases which are housed in massive data warehouses on a number of continents.
Query Processing:
When users search a query, the search engine starts the automated process to trawl through the indexed pages to find the perfect match. Once this is accomplished it can output the best results for the user.
Results:                 
Following query processing is the ranking of the search results. How does a search engine know which webpages should be ranked higher? In short, it comes down to relevancy and credibility. Search engines return pages which are relevant and useful for searchers and it ranks according to popularity of websites serving information.
What Does SEO Involve?
Technical Elements
There are a number of factors that are critical to obtaining a top ranking in Google and other Search Engines, including on-page and off-page. We'll firstly explore how on-page elements affect your site's rankings.
Page Title: The text at the top of your browser window and name of your page in the source code is called the Page Title. Page titles should be relevant, eye-catching and easy to understand both for users and search engines. Guidelines for creating good page titles include:

Include the primary, targeted search terms
Try and use this close to the beginning of the page title
Your page title should be less than 70 characters
Ensure it is readable both to users and to search engines
Check and optimise your page title using an online tool such as Moz's Title Tag checker.

Meta Description: Meta descriptions provide a brief overview of your content to be shown in search engine listings. Their length is normally cut off after around 160 characters. Meta descriptions are seen as a guide by search engines, however they are not always used by default. Search engines may pick and choose which area they wish to display in this area depending on the relevancy of the text to the searched query.

Where Page Titles and Metadecriptions show in Search Engine listings

Headings: Heading are more prominent to the user than any other on-page element of a web page. Headings are usually determined by HTML tags (eg. <h1>, <h2> etc). Remember to include the target keywords in the relevant heading tags. Try and keep heading structure as logical as possible. There should be only one H1 on each page, with possibly multiple instances of H2's and H3's. H4-6 are less common and should be used sparingly.
Body text: The saying "The Content is King" is a commonly bandied-about phrase in SEO circles. Search engines do love content, in fact, no other on-page factor has as much influence as body text. From the perspective of search engines, the ideal content length is 1000-1500 words, with appropriate keyword saturation and paragraph structure.  Targeted search terms should be used in the opening lines or the first paragraph.
Site Structure: Site Structure contributes greatly towards your website's SEO. Sometimes it helps to make an analogy with how we like to see things. We humans prefer to see text and the order of pages housed in an intuitive, logical fashion. We don't wish to have to click through layer upon layer of irrelevant content in order to find what we are looking for. Site structure is potentially a long and complex topic, however if you follow these principles, it should guide you to success.

Ensure that the user can click through to all major pages and content pieces from almost any other page
Use comprehensive footers, primary and secondary menus to satisfy the user's and SE's thirst for relevant content
Provide recommended links where it might add value – for instance, in the news section of your site
Use Anchor links in your body text, such as that used by Wikipedia, to link back to relevant pages on your site and those of other industry leaders
Why Can't Search Engines Understand My Website Without SEO?
Search Engines are fantastic inventions, however they still require some input from webmasters that help indicate whether a website is 'open for business'.  Google, Yahoo and Microsoft each employ cutting-edge technology that continually improve the crawling capacity of their Search Engines. Nevertheless, there are limitations in how they operate, and it makes sense to ensure you have ticked the boxes before employing any other method to promote your site.
Why does my website need SEO?
Imagine you have created an outstanding website. You have spent thousands of dollars in design and development, you are happy with your new site and all is good to go. Does that mean you are guaranteed to make your money back and turn over a consistent profit? Not at all, for the obvious reason that you will need to continually attract visitors to your website. To do this,  you will need a great Digital Marketing strategy. Part of having a great marketing strategy is ensuring your site is accessible to users, and that Search Engines understand your site is credible. Ultimately, SEO is a road through which visitors can reach your site.
Paid Search, while a useful avenue for Digital Marketers to gain high traffic numbers quickly, is not as credible as that from Organic listings, and has a far lower click-through-rate (CTR).


Communicating with Search Engines
Google Webmaster Tools:
Over recent years, Google has consolidated its many points with which to communicate directly to its Search and Index system into Google Webmaster Tools.
Registering your website with Webmaster Tools gives you a powerful tool to improve your website visibility. Webmaster Tools provides a reservoir of information of how Search Engines view your site, including:
Search Statistics
Latest information about incoming links and internal links
Request a recrawl via the Fetch as Google function, to tell Google your site has changed
Immediate notifications if your website has spam links or crawl errors
Indicates what keywords your site is currently as relevant to
Insights about the crawling and indexing of your site by Google's web-crawler(or "GoogleBot")
Google offers tremendous ways to keep track of how you are doing. It helps webmasters to see a website as Google sees it. It gives you insights about what pages have been indexed with their links, what are your popular keywords and a lot more.
You can see which pages and which keywords are performing better. This allows for enhanced digital strategy formulation. Tracking your progress and monitoring the energy you spend on optimising your website is easier when you have Webmaster Tools at your disposal.
Bing Webmaster Tools:
Following Google and Youtube, Bing is the next biggest player in the search engine community. Submitting your site via Bing Webmaster Tools has the potential to drive additional traffic where competitors may not be trying. Bing made improvements to its Webmaster Tools back in 2012 to generate more comprehensive reports. Like the Google AdWords Keyword Planner, Bing also rolls out Keyword Research to better suggest target keywords to website owners.
Bing allows webmasters to track inbound links. With the help of Fetch as Bing, you can see how Bing sees your website. Just like Google Webmaster Tools, BWT tells you which pages are facing redirect or blockage issues.
Google Analytics:
Google Analytics is a great way to track and refine your SEO activity. Not only can you look at overall traffic changes on a daily, weekly or monthly basis, you can also monitor how much traffic comes from Organic search results, the primary measure of SEO efforts.
Google Analytics breaks down data to tell you which landing pages are receiving the highest traffic volumes, bounce rates and traffic types. Not only does it divide traffic into sources, but it also tells you how different devices share your overall traffic.
With Google Analytics, site owners can track the progress of how your pages present to your users. This can then be broken down into goal conversion rates, for instance – how many of your users clicked on a "buy now", or signed up to a newsletter.
All in all, Google Analytics tools is a "must-have" in monitoring your website and goal conversions.
Can I Do SEO myself?
If you own a website, either for business purposes or just as a hobby, you will soon realise that the "build it and they will come" mantra doesn't apply to manifestations on the web. When done correctly, SEO is an excellent way to reach out to those looking for a good or service that you provide. But what to do now? Do you need to hire an SEO specialist? Or you can start it on your own?
The answer is that to some degree, you can do some of your own SEO.
However, there are a few considerations before jumping head on into new and unfamiliar territory. SEO can involve coding, creating content, research, marketing, link building and public relations.
Do you have enough time to learn a new practice such as SEO?
Can you consistently focus on SEO?
Steps to Performing your own SEO
Research Online: The internet is a giant learning source if you are really motivated to learn SEO. You can find many free and paid courses to guide you.
Use Good CMS: Choose a good Content Management System (CMS) for your website that makes SEO easy, such as WordPress. Matt Cutts from Google's web spam team recommends WordPress as a fantastic CMS with many SEO features already built in. View more by clicking on the clip below.

Write Good Quality, Unique and Relevant Content: Since content is the backbone of SEO, you should have good writing skills and excellent grammar. You should also have achievable target keywords, taken from online keyword research tools such as Google AdWords Keyword Planner.
Join a Forum: There are lots of SEO forums, join them and become part of the discussion. You can also post your own questions as they come to you.
Connect with the right people: The largest social networks, Facebook, Twitter and Linkedin are a treasure trove of information and networks to help you learn SEO. You can join Facebook SEO groups and connect with people of interest.
Looking At Hiring an SEO?
If you are looking at hiring an SEO, check out our sample SEO plan to help understand what a great SEO might do to add value. When looking to get the best results for your business, there are few question you need to ask before you deal with anyone.
Ask for past and current clients. Get a reference or feedback to see how well satisfied previous clients. It may not always be easy to get the answer to this question, but good interview skills can help you get the best person for your SEO campaign.
How can he/she help to boost your search ranking? Ask about some techniques the freelancer is going to employ for your SEO campaign.
How much does the freelancer know about Google Webmaster Guidelines. Google prohibits webmasters from a number of spammy tricks to get traffic. This is also known as "Black Hat SEO" and should be avoided at all costs. Its recommended that you learn some of these elements in order to hire the right person.
Ask the freelancer how he or she will monitor the success of the SEO campaign. How often will they communicate and how precisely will they brief you.
It might be tough to hire someone who can bring your website on the top pages of the Search Engine Results Pages, but remember that good SEO should ensure higher user-engagement, sales and profit.
If you are based in Australia and looking for a high quality SEO consultation, contact us using the form below.
Check out Goji Web's infographic on why should I do Search Engine Optimisation.

MORE DIGITAL MARKETING SERVICES
SEO Consulting – Sydney and Australia
Google Analytics Support – Sydney and NSW
Conversion Optimisation Services
SEO Consultant – Sydney and NSW